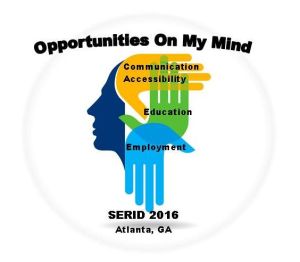 This is an in-person event.
Marriott Century Center
2000 Century Boulevard NE
Atlanta, GA 30345
United States
View on Google Maps
Region
Statewide,
Middle,
Northeast,
Southeast,
West,
East
Event Type
Accessible Programs,
Career / Employment,
Conferences,
Interpreting,
Meetings
The purpose of SERID Inc. shall be to hold an annual conference. State Coordinators for the Deaf in the Southeastern United States are responsible for the coordination of the conferences. The target audience includes health professionals, employers, consumers, educators, and other persons interested in issues affecting individuals who are deaf, hard of hearing, deaf-blind, and/or late-deafened; and to further knowledge concerning these issues through publications, studies, and educational programs.
Conference Agenda:  http://conference.serid.org/agenda/
Conference Registration:  http://conference.serid.org/registration/