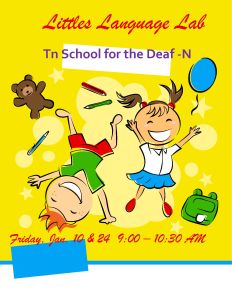 This is an in-person event.
Tennessee School for the Deaf - Nashville
115 Stewarts Ferry Pike
Donelson, TN 37214
United States
Contact Name
Tracy Duncan
Contact Phone
865.320.3754 (Voice, Text)
Event Type
Children Programs,
Education,
Parent Programs
Please let me know if you will come by email Wednesday 22nd
Our philosophy is that young children need language, language, language. Early parental involvement is key! We aim to empower, support, and encourage families so their children will have multiple opportunities for communication and success.
L3 is a class offered twice a month for 1-3 year old children who are deaf or hard of hearing. Parents attend classes with their child to learn how to "play" with a purpose. There is a Shared Reading facilitator, Teacher of the Deaf and a SLP/Teacher in each class. Children are given opportunities to learn and use American Sign Language (ASL) and develop spoken language, all while following curricular concepts from the TN Early Learning Development Standards (TN ELDS).
During each class, important skills such as fine motor skills, gross motor skills, social and emotional development, communication strategies, and expressive and receptive language are targeted.
For more detailed information about the Littles Language Lab, please contact Kim Baggett at k.baggett@tsdeaf.org (865.227.0555) or Caroline Gowin at c.gowin@tsdeaf.org.