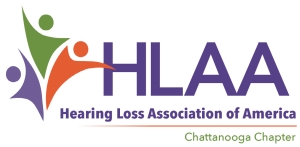 This is an in-person event.
Partnership for Deaf/Deaf-Blind & Hard of Hearing
5600 Brainerd Rd
Suite E-1
Chattanooga, TN 37411-5336
United States
View on Google Maps
Contact Name
Betty Proctor
Contact Phone
(423) 605-6981 (Text)
Event Type
Meetings,
Social Activities
The January 15 meeting will be our annual Rap Session. A Rap Session is a time when we talk about common concerns and offer support to one another by maybe help provide some solutions not considered.
Be thinking about the concerns you face on a daily basis such as the phone, doctor appointments, church services, meetings you attend, etc and let's RAP!
Remember to bring your own drink and a snack to share such as veggies, fruit, chips, pretzels, or cookies. Coffee WILL also be provided!
Captioning provided by Dianne Bryden.
Become an HLAA Member Today!
Becoming a member of HLAA is now more important than ever! Each of us are one of the 48 million people with hearing loss in the United States. To become a member, fill click on the following link to pay it online: https://www.hearingloss.org/make-an-impact/ become-a-member-renew/