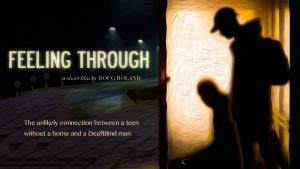 This is an in-person event.
The Franklin Theatre
419 Main Street
Franklin, TN 37064
United States
Region
Statewide,
Middle,
Northeast,
Southeast,
West,
East
Contact Name
Marilyn Trader
Email Address
marilyn.trader@hknc.org
Event Type
Deaf-Blind Programs,
Social Activities,
Theater
Movie premiere starring the first ever DeafBlind actor!  
Plot:  "The unlikely connection between a teen without a home and a DeafBlind man."
FREE!  Open to the Public!  But, you must register before June 20, 2019. Click here to register:  https://www.eventbrite.com/e/deafblind-movie-premiere-feeling-through-tickets-61163469584  Theatre doors open at 12:00PM!
Following the film, there will be a panel discussion with the actor, who is deafblind, and the producer; and then a documentary about the making of the movie.
HKNC Helps Make Film History with Feeling Through
What is it?
• For the first time ever: a DeafBlind man as a lead in a film
• The story: a short film about the unlikely connection between a teen without a home and a DeafBlind man
• A companion documentary about the filmmaking process
Sponsored by:
The KY & TN DeafBlind Interagency Partners:
Division of Vocational Rehabilitation Services
KY Deaf-Blind State Coordinator with OFB/OVR
Tennessee & Kentucky Deaf-Blind Projects
Bridges for the Deaf and Hard of Hearing
Helen Keller National Center