THE BRIDGE BUILDERS LUNCHEON
Wednesday, June 17, 2020 - 11:30am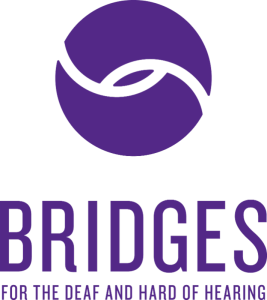 The Bridge Builders Luncheon is the signature, annual fundraiser for Bridges for the Deaf and Hard of Hearing! This year's luncheon brings the incredible Douglas Ridloff to the stage. Ridloff, the founder and executive director of ASL Slam, travels the world hosting creative events celebrating Deaf language, culture, and artistry. To our stage here in Music City, Ridloff will bring a powerful presentation of language, culture, and original visual poetry based on which original music is then composed by Danny Ray Martin. Ridloff and Martin will perform together during The Bridge Builder Luncheon in a unique experience marrying the visual word with the music for which Nashville is known.
The Bridge Builder Luncheon also provides a delicious meal by Bacon & Caviar in the beautiful Noah Liff Opera Center and the opportunity to learn more about the incredible D/deaf, hard of hearing, and deaf=blind communities and the important programs and services you make possible in these communities each and every day.
There is no cost to attend The Bridge Builder Luncheon. Each guest will have the opportunity to make a personal gift or pledge during the event.
Co-Chairs:  Courtney & Jason Ross and Angie Ciklin
​
If you are interested in becoming a sponsor for The Bridge Builders Luncheon , please visit Sponsor Opportunities
or contact Mimi Fondren at mimi@bridgesfordeafandhh.org for complete sponsorship package.
To be placed on the guest list and then at a table, please go the website.
Featured Performing Artist:  Douglas Ridloff:
Douglas Ridloff is a poet and visual storyteller creating original works in Sign Language. He is the owner, executive director and host of ASL SLAM (www.aslslam.com) a monthly open mic event in NYC that functions as a space for the Deaf community to   creatively play with ASL through poetry performances, improv, games and storytelling, often bringing special guests from around the world to perform. As a widely popular platform, ASL SLAM has now been established as a monthly event in Washington DC, Chicago and Orlando with Douglas's visionary and guidance.     Recently, Douglas has organized performances at the Whitney Museum, the Jewish Museum, SITE Santa Fe and the 9/11 Memorial Museum, and has traveled to perform his own poetry and to bring ASL SLAM to Deaf communities around the world, including Jamaica, Cuba, Finland, England, Europe,   Norway, Israel and Australia. He has worked as an ASL consultant for film and TV with the likes of John Kraskinsky, Emily Blunt, Sam Rockwell,    Donald Glover and Anthony Edwards. Douglas has been featured in NBC NEWS, Circa, HBO Vice, and CNN's Great Big Story for his work. He gave a talk at TEDx Vienna in 2018. He is based in Brooklyn, New York, but currently lived in London with his two Deaf young boys and his wife Lauren Ridloff, the actress for The Walking Dead and The Eternals for Marvel.