TSD MOVIE NIGHT "Hedy and Heidi - The Lost Sister"
Friday, June 1, 2018 - 7:00pm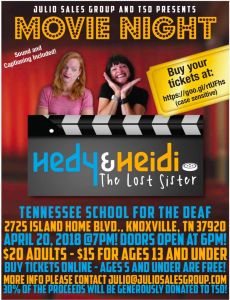 The new date for this movie is October 5, 2018.
Tennessee School for the Deaf and Julio Sales Group presents Movie Night with Sound and Captioning included! 
Movie Synopsis:
The story of two twins separated at birth, Hedy and Heidi: The Lost Sister follows two twin sisters whom lead drastically different lives. After decades of vivid dreams and intuitions about an unknown sister, HEDY (Heidi Branch) discovers the existence of her so-called twin, HEIDI (Heidi Branch- yes, it's the same actress.) Determined to find closure behind the true meaning of her dreams, she leads viewers on a hilarious and charming quest to find what she truly hopes will be the sister she'd been dreaming of. Bumping into improbable situations and unique characters along the way, Hedy finally finds the woman she believes to be her sister.
Her abrupt arrival quickly causes discord in the family. Heidi's busy life is soon thrown into disarray by the arrival of this quirky and seemingly incompetent stranger. With an increasingly frustrated husband and two teenage boys, Heidi is forced to learn how to balance life and Hedy's shenanigans. Will Heidi reach a breaking point? Can Hedy ever win the love of her new family?
Doors Open at 6:30 PM!
Cost:
Adults: $20
Ages 13 and UNDER:  $15
Ages 5 and UNDER:  FREE
Buy your tickets at: https://goo.gl/rtUFhs (case sensitive) - Ages 5 and UNDER are Free!
30% of the proceeds will be generously donated to TSD!