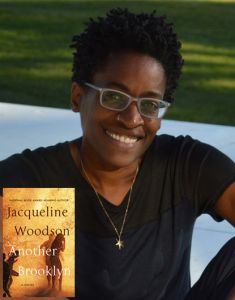 This is an in-person event.
Nashville Public Library - Main Library
615 Church Street
Nashville, TN 37219
United States
View on Google Maps
Contact Phone
615-862-5750 (Voice, TTY)
Event Type
Accessible Programs,
Featured
Author, Jacqueline Woodson will speak about her new book, Another Brooklyn.
This salon is a free, ticketed event. A limited number of auditorium tickets will be available on-site 30 minutes before show time on the event date (5:45PM). Advance auditorium tickets are limited and guarantee a seat in the auditorium. Advance tickets are available on 8/24/16 at 8:00AM for $2.50.  Please check the website for further information.
Arrive early for the on-site ticket line. Once auditorium seats have been filled, guests will be accommodated in alternative viewing locations.
To join the signing line at this event, you must purchase a copy of the author's latest book from Parnassus Books. As a Salon patron, you will receive a 10% discount!
This salon will be open captioned.  If you plan to utilize the open captioning, please contact Sandy Cohen, in advance, to reserve a seat.  ASL interpreter available upon advance request.
About Another Brooklyn
Like Louise Meriwether's Daddy Was a Number Runner and Dorothy Allison's Bastard Out of Carolina, Jacqueline Woodson's Another Brooklyn heartbreakingly illuminates the formative time when childhood gives way to adulthood--the promise and peril of growing up--and exquisitely renders a powerful, indelible, and fleeting friendship that united four young lives.
About Jacqueline Woodson
Jacqueline Woodson is an award-winning author of more than 30 books for children, young adults and adults. Among her many accolades, she is a four-time Newbery Honor winner, a three-time National Book Award finalist, and a two-time Coretta Scott King Award winner.