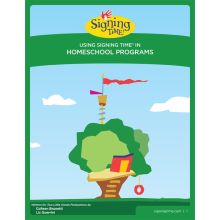 The Guide "Using Signing Time in Homeschool Programs" provides useful information about how parents can use Signing Time to support their homeschool curriculum across all subject areas. The full guide includes the following sections:
Using Signing Time to Fit:

Your Child's Learning Style
Your Teaching Style
Your Budget
The Ages, Stages and Number of Children
Subject Matter
Your Use of Technology

Signing Basics
Signing Across Subject Areas
Themed Activities
Parent Resources
Overview of the Signing Time Classroom Edition
What is Signing Time?
Success Stories
Imprint
Salt Lake City, UT: Two Little Hands Productions, 20--?
<a href="http://waldo.library.nashville.org/record=b2172838*eng"><img src="http://www.syndetics.com/index.aspx?isbn=9781936859016/MC.GIF&amp;client=nash&amp;showCaptionBelow=f" border="0" alt="cover image" style="float: left; margin-right: 5px;"></a>[United States] : Two Little Hands Productions, [20--?]