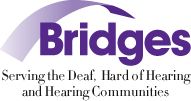 This is an in-person event.
Bridges
935 Edgehill Avenue
Nashivlle, TN 37203
United States
Contact Name
Eric Workman
Email Address
ew@bridgesforthedeafandhh.org
Contact Phone
615-248-8828 (Voice)
This two-part, 15-hour introductory workshop (Part One: 3 hours and Part Two: 12 hours) is for those who seek to advance their understanding and application of best practices while working as a member of a Deaf-hearing team. Participants will learn about legal interpreting, including the role and responsibilities of the legal interpreter in the courtroom setting, while working as a member of a Deaf-hearing interpreting team. Theory and best practices of the proceedings interpreter—and how that role is reflected in the application of protocol consistent with court procedure as a full Deaf-hearing interpreting team—will be discussed. Protocol relating to disclosures to the court, correcting the record, negotiating for optimal working conditions, and intra-team monitoring will also be addressed. Participants will engage in small and large group activities, at which time different protocol strategies will be discussed and applied.
See flyer for more information on the various sessions, costs, CEU credits, and presenters, and download the registration form to register and for instructions on submitting payment.