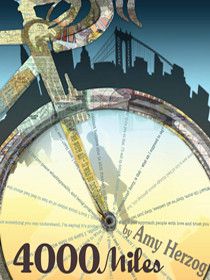 This is an in-person event.
Clarence Brown Theatre
1714 Andy Holt Ave
Knoxville, TN 37916
United States
Contact Name
Clarence Brown Box Office
Contact Phone
(865) 974-5161
Event Type
Accessible Programs,
Social Activities,
Theater
After losing his best friend during a cross-country bike tour, Leo lands on his grandmother's West Village doorstep.  Named "Best Play of the Season" by Time Magazine, this award-winning drama explores the funny, frustrating, and ultimately life-changing relationship between a grandson learning to face his life and a grandmother who is starting to forget hers.   *Contains adult language.
*Captioning is provided at Clarence Brown on the first Sunday showing of each play at 2:00pm.
For more information or to purchase your tickets go to http://clarencebrowntheatre.com/plays/4000-miles/ .