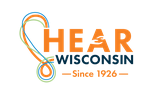 Phone
414-604-2200 (Voice)
Organization Description
HEAR Wisconsin, a nonprofit, is Wisconsin's premier provider of comprehensive services and resources for children, adults, and seniors who are Deaf or Hard of Hearing. Provided services include access to assistive technology, audiology, early intervention, and interpreter services.
KELLOGG CHILD & FAMILY PROGRAM
HEAR Wisconsin provides early intervention services for infants and toddlers with developmental delays or disabilities and their families. We work with many counties, schools, and other agencies in Wisconsin to provide appropriate early intervention services to the children who are deaf or hard of hearing.
HEARING HEALTHCARE
HEAR Wisconsin offers clients personalized care focused on ensuring better hearing and communication. Meet with our doctors of audiology and technology consultants to find the best device for your unique hearing needs. 
ASSISTIVE TECHNOLOGY CENTER
Trouble hearing the TV? Can't hear your phone ring? Meet with our technology consultants to find the adaptive equipment you need. Online and in-store.
COMMLINK (AMERICAN SIGN LANGUAGE AND SPANISH INTERPRETING)
Licensed professionals providing quality sign language services.  Business meetings, medical appointments, legal proceedings and everyday events - 24/7.