Arizona State Schools for the Deaf and Blind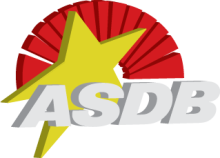 Organization Contact link
Phone
(602) 771-5200 (Voice)
Organization Description
ASDB Mission
We are committed to excellence and innovation in:
Education for all children, throughout Arizona, who are hard of hearing, deaf or have vision loss
Leadership and Service
Collaboration with families, school districts, communities, and others
Partnership with other agencies that will enable children who are hard of hearing, deaf or have vision loss to succeed now and in the future
ASDB Past and Present
The Arizona State Schools for the Deaf and the Blind (ASDB) was founded in 1912 – the year of Arizona's statehood. ASDB serves over 2,000 children who are blind, visually impaired, deaf, hard of hearing or deafblind from birth to grade 12. ASDB operates two schools for the deaf, one school for the blind, our statewide Early Learning Program which includes birth to three and preschool programs, and Itinerant Services for students attending a school with one of our district partners. ASDB is dedicated to empowering diverse, young children and students with the educational opportunities necessary to succeed in college, career and life.
In 1912, Arizona's first state legislature enacted a provision forming ASDB. Henry C. White, the first principal, was appointed by Governor George W.P. Hunt. When classes first began in October of 1912, there were only 19 students who were deaf or hard of hearing. Classes were held in a converted residence on the University of Arizona (UA) campus in Tucson. Over the years, the school continued to grow and eventually became a public corporation governed by a board of directors. For over 100 years, ASDB has provided students with a well-rounded, high-quality education through a variety of classes, sports, extracurricular activities, events and academic programs.
ASDB Tucson Campus
The ASDB Tucson campus maintains both a day program and a residential program. Students participating in the day program attend school during the day and then return home later in the afternoon. Students in the residential program live in on-campus dormitories, returning home when school is not in session. There are two dormitories available for students who are deaf and hard of hearing and two dormitories available for students who are blind or visually impaired. Each dorm has a team leader, teaching parents, residential services assistants and a night supervisor who oversee the safety, well-being and social needs of each student in their care.
The Tucson campus has over 25 buildings—athletic recreational facilities, dormitories, libraries, laboratories and classrooms. One of the most noteworthy buildings is the Berger Performing Arts Center, which is renowned for its spacious seating, superb acoustics and highly popular performances of local, statewide and national artists. The Tucson campus is also recognized for its beautiful landscaping, its important place in Arizona history, and its well-maintained open areas.
Phoenix Day School for the Deaf
Phoenix Day School for the Deaf (PDSD) is an ASDB school campus located in Phoenix. PDSD was established in 1967 because Phoenix parents wanted their children, who were deaf or hard of hearing, to go to a school closer to home. Over 350 students attend PDSD, which offers instruction from preschool through 12th grade. In addition to classroom instruction, PDSD provides services such as counseling, communication instruction, audiology, occupational and physical therapy, vocational training, career counseling and post-school transition planning. PDSD provides students with language skills in both American Sign Language (ASL) and English.
Itinerant Services
In 1987, ASDB established the first regional cooperative to ensure students receive the best education possible throughout the state of Arizona. Itinerant Services has grown to three regions: Region I includes the Eastern Highlands, North Central and Southwest portions of the state; Region II cover the large metropolitan area of Phoenix; and Region III covers the southeast portion of the state with its office in Tucson. Itinerant Services provides assistance with identification of student needs, evaluation of educational progress, specialized instruction and related services, specialized equipment and materials, implementation of accommodations and modifications in the general education program. Itinerant Services serves over 1100 students.
Early Learning Program
The Early Learning Program (ELP) has been providing services to families with deaf or hard of hearing and blind or visually impaired infants and toddlers since 1973 and now includes our statewide preschool programs. The certified teachers of the deaf and the blind work in collaboration with the Arizona Early Intervention Program and regional Early Intervention Teams. Most of ELP's services to families with children birth to three are provided in natural environments (typically families' homes), as well as some center-based and Internet-based services.
Through modernization and diversification of its operations, curriculum growth and expansion of learning opportunities, ASDB continues to lead the nation in serving students who are deaf, hard of hearing, blind, visually impaired or deafblind in the state of Arizona.