The Deaf Child in a Hearing Family: Nurturing Development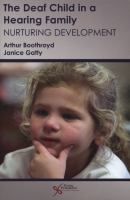 For audiologists in clinic, for school-based audiologists and speech-language pathologists, and for special educators, the wisdom and many years experience shared here make this book an essential and practical guide to the effective management of hearing loss in children.
Boothroyd and Gatty's new book is based on the assumption that the parents are hearing and that spoken-language competence has been established as a goal. Divided into six parts, the authors first summarize basic information on sound, hearing, hearing loss, language, speech, speech perception, and child development. The authors then move on to deal with sensory aspects of management, including information on hearing aids, cochlear implants, assistive listening devices, room acoustics, and lipreading. The assumption is that a first step in management is to optimize and capitalize on hearing when it is present and provide supplements when it is not. The third part deals with steps that can be taken to enrich the child's learning environment.
Imprint:
San Diego, Cali.: Plural Pub., c2012