Health Investigations with Dr. Know: Hearing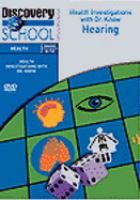 With all the noise around us, is our hearing really in danger? Dr. Know enlists an audiologist to test sound levels around the home and at a heavy metal concert. You'll want to hear his findings.
Dr. Know is real-life physician Paul Trotman. Join him as he debunks, deflates, and demystifies many of the myths we've been told about staying healthy. Topics range from the puzzling and exciting to the titillating and scary, but they're always interesting and filled with facts that will make you say, "I didn't know that."
Imprint:
Silver Spring, MD: Distributed by Discovery Education, c2007