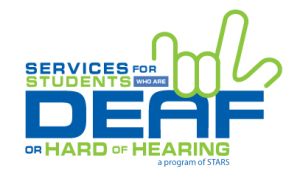 Youth Opportunity Center
1704 Charlotte Avenue, Suite 200
Nashville,
TN
37203
Contact Person:
Laura Lekowicz-Ballard, Deaf and HOH Program Director
Description Of Services:
Services for Students Who Are Deaf or Hard of Hearing are designed to prevent the use of alcohol, tobacco, and other drugs among deaf and hard of hearing individuals, from kindergarten through 12th grade. This program focuses on; In-school alcohol, tobacco, and other drug information classes, in-home individualized sign language classes for parents, individual support with transition from high school to college or the work place, and support services at the Tennessee School for the Deaf in Nashville, Metro Nashville Public Schools, and Brentwood Baptist Deaf Church after school programs and summer camps. STARS also hosts the annual 'College and Job Readiness Retreat for Deaf and HOH High School Students'.
Authorized Email:
llekowicz@starsnashville.org