"Ghost"
Sunday, January 27, 2019 -

2:00pm

to

3:00pm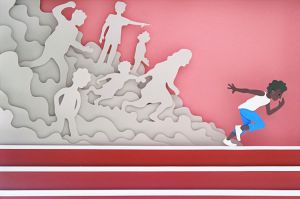 Accessibility:
This performance will include an American Sign Language (ASL) interpreter.  For information regarding ASL Interpreted shows and other accessibility options, please visit https://www.nashvillechildrenstheatre.org/accessibility/.

Assistive Listening Devices are available free of charge. They may be checked-out from our box office in exchange for a valid driver's license or state-issued ID, which will be returned upon return of the device. Receivers are worn lanyard-style. Users may choose between a clip-on ear speaker (which fits around either ear) and a Neckloop, if you have a T-coil enabled on your hearing aid.
Show Description:
Castle Crenshaw, a.k.a. Ghost, has been running his entire life, but for all the wrong reasons.  Then one day he meets Coach, an Olympic medalist who sees his unique raw talent.  Can Ghost achieve the speed he needs for success, or will his past finally catch up to him?  A world premiere especially developed for Nashville Children's Theatre.
"Trouble is, you can't run away from yourself."
*NCT offers professionally sign-interpreted performances for all of its mainstage productions through a partnership with Gate Communications
Interpreted dates for public performances, for the rest of the season, are:
The Very Hungry Caterpillar Show: Sunday, March 31, 2019
Tomás and the Library Lady: Sunday, May 12, 2019