NCTAD Meeting and Social Event
Saturday, January 5, 2019 - 10:30am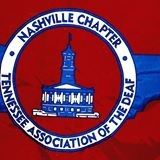 Nashville Chapter Tennessee Association of the Deaf are inviting everyone to attend the meeting and social event.
We will have a meeting starting at 10:30 a.m. until noon. 
At noon, we will have soup and sandwiches to share. Please bring your favorite soup to share with free admission.
If you plan not to bring soup or sandwiches then it will cost $5.00 to enter our event.
We plan to have soup contest, door prize and lots of fun!!
Looking forward to see you on Saturday, January 5th!