MOVIE: "A Quiet Place"
Monday, April 9, 2018 - 4:30pm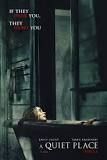 ****BREAKING NEWS***!!!
Finally! Open captions come to Malco Paradiso today at 4:25 PM and tomorrow evening, April 10th at 7:05 PM.  The movie is rated PG-13.
Monday the cost is $9.50 per adult and Tuesday is $7 per adult. *Please* come support Deaf Talent! and support Malco providing the captions!
See you there!