HLAA Nashville Chapter Meeting
Saturday, May 12, 2018 - 12:00pm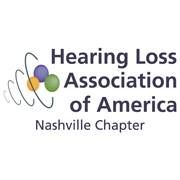 Come join us to socialize and learn about the topic of the day. a potluck lunch begins at 12:00 PM followed by a program at 1:30 PM. Both CART and an ASL interpreter will be provided.
In honor of Cinco de Mayo, we will be serving Mexican food.  Please bring a dish to share – tacos, enchiladas, casseroles, salsa and chips, taco condiments (shredded cheese, lettuce, sour cream, sauce), dessert or drinks.  Feel free to bring a friend who would like to learn more about service dogs.
Our presenter, Cynthia Moynihan, is a Tennessee native and an immediate Past President of Hearing Loss Association of America Florida State Association.  She will be bringing her Hearing Dog Hero, LaRue, who is from Canine Companions for Independence (CCI), a non-profit organization.CCI was founded in 1975 to enhance the lives of those with disabilities by providing highly trained assistance dogs and ongoing support free of charge to those in need with four dog types:  Service, Veteran, Hearing and Facility.  The life changing support stems from volunteers who help raise and/or provide sponsors/donations necessary to ensure the programs continued success to provide support to qualified candidates.  Join us to learn more as graduate ambassador, Cynthia Moynihan, shares the magic of CCI when a graduate dog is placed with the person in need and the new beginnings that unfold.
Our meeting space at Emmanuel always has room for more food and canned goods for their food pantry.  Both small and large contributions are always welcome!
After the May meeting, we will be taking a break this summer (June, July and August) since many of our members have vacations, family activities, etc., planned over the summer.  We will resume our meetings in September.  Please feel free to get together to socialize over the summer, and email us if you have any questions/ideas/suggestions for our Chapter.  We would love to hear from you!