"Part of the Plan" at TPAC
Sunday, September 17, 2017 - 1:00pm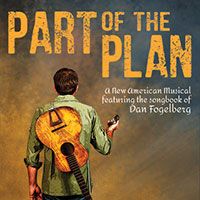 The Tennessee Performing Arts Center will offer American Sign Language and Open Captioning for Part of the Plan in James K. Polk Theater on Sunday, September 17, 2017 at 1:00 p.m.  Tickets for $54.50, a $15 discount, are now on hold for patrons who use these services. Please buy your tickets by 5 p.m.  on Friday, August 25, to take advantage of this special offer.
TPAC is co-producing and presenting the world premiere of this new musical featuring the music of the late singer-songwriter Dan Fogelberg. The story by Kate Atkinson and Karen Harris follows three turbulent decades in the lives of a teenaged girl and the son she was forced to give up for adoption. Taking audiences through the post-World War II boom times, the social revolution of the 1960s, and the political upheaval of the 1970s, the show explores themes of love, loss, renewal, and how everything in life seems to happens for a reason. Twenty iconic Fogelberg songs are interwoven into the musical, including Leader of the Band, Same Old Lang Syne, Longer, and the title song.  
Running time is an estimated 2 hours and 30 minutes, with intermission.
Again, tickets in the lower orchestra level for $54.50, a $15 discount, are on hold until 5 p.m. on Friday, August 25 for patrons who use ASL or open captioning and their companions. Note that facility fees are not charged on purchases at the TPAC Box Office, open Monday through Friday, from 10 a.m. to 5:00 p.m. (Providing your promo code at time of purchase).
1. For online purchase, click on this link to go directly to the page to buy tickets at the discount: https://patron.tpac.org/events/detail/part-of-the-plan-2017-tpac
2. Click on the link in the upper right corner that reads "Have a promo code? Click here." Enter promo code TPACTICKET
3. Click on Buy Tickets.
4. Select the performance date and time of Sunday, September 17, at 1:00 p.m. and you will see the seats available for the discount. Click on "Select Your Seat" to make your own choice or click on "Select a Section" and choose an option in the Orchestra level to continue the process.
Upcoming 1:00 Sunday Matinee Performances with American Sign Language and Open Captioning:
Part of the Plan, September 17, 2017
Fun Home, October 15, 2017
An American in Paris, November 5, 2017
The King and I, February 4, 2018
Cabaret, March 4, 2018
Wicked, April 8, 2018
Waitress the Musical, June 10, 2018
Love Never Dies, June 24, 2018