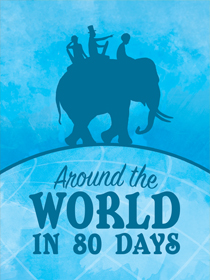 This is an in-person event.
The Clarence Brown Theatre
1714 Andy Holt Aveneue
Knoxville, TN 37916
United States
Contact Name
The Box Office
Contact Phone
865-974-5161 (Voice)
Bursting with imagination, this exuberant whistle-stop tour through Verne is a trip worth making.
The intrepid Phileas Fogg with his loyal valet, Passepartout, voyage from Victorian London through the Indian subcontinent, to Asia and across the Pacific to America on a wager that he will return in precisely 80 days. Literally, a theatrical tour-de-force.
This production may employ the use of theatrical haze and/or fog. Interpreting available.
Select the state where your organization or point of contact is located.
No