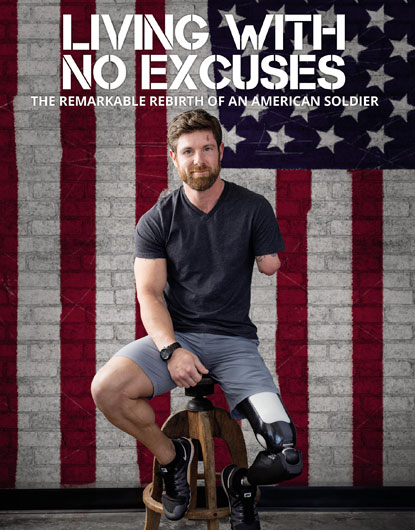 This is an in-person event.
Contact Phone
615-862-5750 (Voice, TTY)
Author, Noah Galloway will speak about his new book, Living with No Excuses: The Remarkable Rebirth of an American Soldier.
This salon is a free, ticketed event. A limited number of auditorium tickets will be available on-site 30 minutes before show time on the event date (5:45PM). Advance auditorium tickets are limited and guarantee a seat in the auditorium. Advance tickets are available on 8/11/16 for $2.50. Please check the website for further information.
Arrive early for the on-site ticket line. Once auditorium seats have been filled, guests will be accommodated in alternative viewing locations.
To join the signing line at this event, you must purchase a copy of the author's latest book from Parnassus Books. As a Salon patron, you will receive a 10% discount!
This salon will be open captioned. If you plan to utilize the open captioning, please contact Sandy Cohen, in advance, to reserve a seat. ASL interpreter available upon advance request.
About Living With No Excuses
Inspirational, humorous, and thought provoking, Noah Galloway's Living With No Excuses sheds light on his upbringing in rural Alabama, his military experience, and the battle he faced to overcome losing two limbs during Operation Iraqi Freedom. From reliving the early days of life to his acceptance of his "new normal" after losing his arm and leg in combat, Noah reveals his ambition to succeed against all odds.
About Noah Galloway
Sergeant Noah Galloway was assigned to the 1st of the 502nd Infantry of the 101st Airborne Division during Operation Iraqi Freedom. Three months into his second tour of duty, he experienced a life changing injury--losing his left arm above the elbow and left leg above the knee in an Improvised Explosive Device attack. After a long stint in recovery and rehabilitation, Noah became a motivational speaker and fitness activist. A father of three, Noah currently resides in Alabaster, Alabama.
Select the state where your organization or point of contact is located.
No
The state(s) you choose will also populate that state(s) calendar.* After you create an event, use the "Clone" tab to duplicate the event on additional dates.
GEO Location
POINT (-86.781808 36.161544)