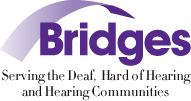 This is an in-person event.
Bridges
935 Edgehill Avenue
Nashville, TN 37203
United States
Email Address
em@bridgesfordeafandhh.org
Contact Phone
615-248-8828 (Voice)
Event Info / Registration Address
Event Type
Deaf-Blind Programs,
Interpreting
In this workshop, participants will learn various communication techniques and best practices in working with Deaf-Blind individuals in the community. They will learn the roles, responsibilities and differences between the Support Service Providers (SSP), Interpreters, Interveners and Communication Facilitators. Participants will also acquire an understanding of the various types of vision and hearing modalities, modifications in communication, other types of quick messaging techniques and the importance of adaptive equipment.
Participants will also have an opportunity to learn how powerful touch can be when working with consumers who have a vision and hearing loss. This will include the use of Tactile Sign Language, Touch Cues, Touch Signals, Cultural Perspectives and other systems which have been researched and successfully used in other countries. Participation will be encouraged in this workshop through hands-on practice of various communication systems.
Lunch will not be provided on Saturday, but attendees will receive an hour lunch break.
Parking is available at Bridges in the marked spaces only. Additional parking is available at the church adjacent to Bridges's parking lot.
To register online for this two-day workshop, go to the website link provided.
Fees:
Interpreter Registration:  $75
Student Registration:  $60