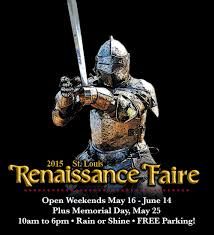 This is an in-person event.
Rotary Park
2577 West Meyer Road
Wentzville, MO 63385
United States
Region
National,
Statewide,
Middle,
Northeast,
Southeast,
West,
East
Email Address
info@stlrenfest.com
Contact Phone
(800) 373-0357 (Voice)
Event Info / Registration Address
Deaf Awareness Weekend at the 2015 St. Louis Renaissance Faire 
May 30th and 31st, 2015  -- Rain or Shine the show must go on!  INTERPRETED!!!
Musical Performances, Sword Fighting, Jousting, Storytelling, Kid's Activities, and so much more . . .
Open weekends May 16th to June 14th, Plus Memorial Day May 25th -- 10 a.m. to 6 p.m.
RAIN OR SHINE.  FREE PARKING.  800.373.0357