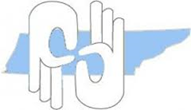 This is an in-person event.
Tennessee School for the Deaf
2725 Island Home Blvd
Knoxville, TN 31920
United States
Along with our informative workshops, we will have artisan exhibits from members of our local Deaf and interpreting communities available. We will be offering a box lunch from Jason's Deli on Saturday, June 27th. You will have your choice of a premium ham or oven-roasted turkey breast sandwich with leafy lettuce and tomato, chips, pickle and a chocolate chip cookie; vegetarian options will be offered upon request. This year we are doing things a little differently; the choice is yours! For each of the three sessions, you will have two workshop options presented by our very talented and knowledgeable presenters. Here is what you can look forward to:
WORKSHOP SESSION #1
"Hey, I'm looking for…How to interpret those challenging automotive calls."-Brenda Sellers
This workshop is geared primarily towards video relay service interpreters. This workshop will help you recognize some signs commonly used for automotive parts even though, per our usual, not every part has a sign. This workshop will give an overview of some common parts, their names, and where they are located. Knowing which system the part is in and its function will help you describe it better when it appears during your work. Sometimes we, as the interpreter, need a name with the sign the caller is giving us; I hope to supply you with some of these names and help you become more comfortable
interpreting these calls.
-OR-
"Get Back in the Driver's Seat - A Roadmap to Financial Success" –Anna Seale
In today's world, finances are part of every aspect of our life, including our interpreting work. We need to have an understanding of finances in order to be successful in our personal and professional lives. In this workshop, we will discuss personal strategies for goal setting, how to create a realistic budget, how to save, how to understand credit reporting its impact on your life, and debt repayment methods.
As interpreters, many of our consumers are dealing with financial stress. We are interpreting in these situations and about this subject matter. In learning about this topic, we can render messages more
accurately and with more empathy.
WORKSHOP SESSION #2
"Interpreting & Intersectionality: Examining the Place of Identity in Our Work" –Folami Ford
In this workshop participants will examine the role of identity in their work through the lens of intersectionality, simultaneity, and social group identity theory. As interpreters we inhabit any number of
identities beyond that of "interpreter" and these identities can impact how we show up and interact on an assignment. Through various hands-on activities workshop attendees will have an opportunity to
explore the many facets of their identity so that they can become more mindful of how these identities can possibly exert influence on their everyday work. Such reflections will serve to make us more
thoughtful practitioners as we interpret in an increasingly multicultural and multilingual world.
-OR-
"A New Generation of Slang" –Sabrina Smith
Have you ever been interpreting and heard the phrase "Wow, you be channeling the chucks!!!" or "I can't believe he threatened to steal on her!!" We all experience hearing slang working in the
educational system, the problem is, what do we do with it? This workshop takes a look at slang that is used by the current generation of youth and addresses the issue of what does an interpreter do when
they hear these phrases. Working with younger generations means understanding their language and being able to interpret it effectively. This workshop teaches skills that help educate interpreters on
current slang and what to do when they are faced with terms they are unfamiliar with.
WORKSHOP SESSION #3
"Laying a Strong Foundation: Working from ASL into Spoken English" –Folami Ford
In this workshop participants will have an opportunity to review the building blocks of a successful ASL to spoken English interpretation. Although the literature recommends working into our first language,
signed language interpreters are sometimes hesitant, nervous, or less confident when working from ASL into spoken English. To help participants overcome their own self-defeating behaviors the
following topics will be covered: Gile's effort model of interpreting, the interpreter's tool kit, & effective interpreting strategies. Lecture, small group discussion, large group discussion, and hands on practice
will allow the presenter to accommodate a variety of learning styles.
-OR-
"It's a Touchy Subject" –Sabrina Smith
This workshop is designed to explore subjects in the educational setting that can be a bit touchy to interpret. We will take an in-depth look at Family Life in the K-12 setting and how interpreters can be
better prepared to approach the subject in the most professional way. As interpreters how many times have we been faced with the decision: to expand or not to expand, what exactly is my role here, or how
far is too far? The goal in this workshop is to empower interpreters to take an active role in their interpretation of touchy subjects and get the intended message across to the client showing respect to the deaf/hard of hearing student as well as any professionals in the room. Other subjects such as Science and History are explored to find out how to address the challenges that arise in the classroom.
The workshop will also include open discussion that will enable the group to learn through others experiences. Whether you are a seasoned interpreter or just beginning your journey, this workshop has something for everyone.
Select the state where your organization or point of contact is located.
No