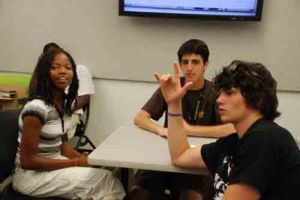 This is an in-person event.
Gallaudet University
800 Florida Avenue NE
Washington, DC 20003
United States
View on Google Maps
Contact Name
Vivienne Schroeder
Contact Phone
202-618-6866 (Video Phone)
Event Type
Accessible Programs,
Camps,
Sign Language Classes,
Social Activities
An exciting intensive camp in which campers will be exposed to ASL 24/7 while learning from qualified ASL Instructors and practicing with camp counselors and peers who are deaf and hearing alike! This camp is for experienced signers who are at the intermediate level or above, a screening interview will be a condition of acceptance. Three different course levels will be offered, ensuring that each camper receives instruction appropriate to their skill level. In addition to experiencing deaf culture and history, campers will have the opportunity to explore our Nation's Capital, attend social events, and more
Date of program: July 09 - 17, 2015
Program fee:  $1,000
Who Can Attend:
Deaf, hard of hearing and hearing students currently in 9th–11th grades.  Must show evidence that you are enrolled in a standard, local, or general high school diploma - track program.  Please submit an unofficial transcript and/or letter from guidance/school counselor. Incomplete applications will not be processed. Only students with Intermediate or above ASL skills will be considered for the IIASL program. Acceptance to the program is contingent upon the results of an evaluation done through Skype.
Registration:  Click here to register!