SEE the MUSIC presents Madeleine Slate at Musicians Corner
Saturday, October 18, 2014 -

1:30pm

to

2:00pm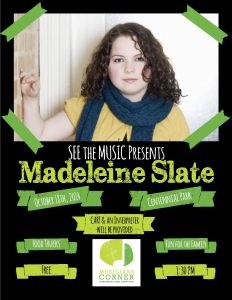 A career as a musician seems an uncommon choice for a person who has had a hearing loss since childhood, but Madeleine Slate has become just that. Slate and her family are unsure when in her early childhood she developed a 60% hearing loss and speculate she could have been hard of hearing since birth. Because she excelled at lip reading beginning in her very early childhood, it wasn't until she was 7 that her hearing issues were detected. After numerous surgeries, her hearing eventually improved to a 50% loss in one ear and nearly 15% in the other ear.
Not until she reached high school, did Slate develop an interest in learning ASL, but she would abandon it again until June of 2013 when a friend asked, "What do you do when you're not doing music?" Slate recognized that she needed something more in her life. This realization led to her enrolling in sign language classes. Through her ASL teacher, Mike Helms, and other new friends in the Deaf / hard-of-hearing community, Slate found that she too could embrace being hard of hearing. For the first time ever, she felt like she "fit in" and she discovered that "embracing my hearing loss and other traits that make me unique at the same time has helped the music industry understand me a bit more too." Now, Madeleine Slate describes herself as "hard of hearing with a Deaf heart."
Growing up in a family where she was exposed daily to music, Slate's own musical passion is not surprising. Although she was born in Toronto, she now resides in Nashville, Tennessee where she secured a deal with Music Row to write music. To date, Slate's accomplishments include writing the song "That's How I'll Remember You" sung by David Nail, as well as singing her own songs for various television shows and even a movie. They include, "What Happens" on The Client List, "Never Know the Word Lonely" on Hart of Dixie, and "Somethin' 'bout Christmas" on A Madea Christmas.
Slate says, "My dream is to show my deaf and hard of hearing friends what I love about music, and to show my music friends what I love about ASL and the Deaf culture." Slate's ultimate dream is to bring this unique show that unites the two communities she loves all over the world.  SEE the MUSIC brings the music alive with both interpreting and CART captioning services making it fully accessible for deaf and hard of hearing audience members.  
Musician's Corner is an outdoor music concert series in Centennial Park in the fall.  People bring blankets and chairs to sit on and several food trucks will be there for food and refreshment.  The event is free and people of all ages are welcome to attend.  It is fun for the whole family!