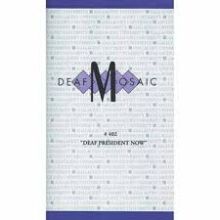 Emmy Award-winning Deaf Mosaic, a television/magazine formatted program produced by the former Department of Television, Film and Photography at Gallaudet University, presents the 'Deaf President Now' protest of 1988. Tabbed as the most extraordinary week in Deaf history, this episode includes interviews with student leaders Greg Hlibok, Tim Rarus, Bridgetta Bourne, Jerry Covall and others. Exclusive footage of the demonstrations on the Gallaudet campus is shown along with an interview with the new Gallaudet president, Dr. I. King Jordan.
Imprint
Washington, D.C.: Gallaudet University, c1988
Deaf Mosaic #402: "Deaf President Now"