Salon @ 615: Pat Conroy - "The Death of Santini"
Tuesday, October 29, 2013 -

6:15pm

to

8:15pm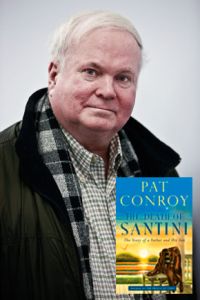 Author Talk, Book Signing & Sale - Open Captioned and ALDs Available!
Author talk at 6:15 PM.
Book signing to follow. Books will be available for purchase at the event via Parnassus Books.
Ticket Information
This is a ticketed event. A limited number of advance tickets will be available online for a $2.50 service fee per ticket.
Advance tickets guarantee your seat up to 10 minutes prior to show time, at which time empty auditorium seats will be filled with stand-by guests.
A limited number of FREE tickets will be available on-site on the day of the event. We recommend that you arrive early for the on-site ticket line. Once auditorium seats have been filled, guests will be accommodated in alternative viewing locations. Advance tickets are available starting October 15, 2013 at 8:00am. Go to website above if you wish to buy tickets in advance.

About The Death of Santini: the Story of a Father and His Son
Conroy will discuss his new book The Death of Santini. In this powerful and intimate new memoir Conroy and his father, the inspiration for The Great Santini, find some common ground at long last.
About Pat Conroy
Pat Conroy is the bestselling author of nine books: The Boo, The Water is Wide, The Great Santini, The Lords of Discipline, The Prince of Tides, Beach Music, My Losing Season, The Pat Conroy Cookbook: Recipes of My Life and South of Broad. He lives in Beaufort South Carolina.
His father, Donald Patrick Conroy, was a towering figure in his son's life. The Marine Corps fighter pilot was often brutal, cruel, and violent; as Pat says, "I hated my father long before I knew there was an English word for hate." But as Pat tenderly chronicles here, even the oldest of wounds can heal. In the final years of his life, Don Conroy and his son reached a rapprochement of sorts. Quite unexpectedly, the Santini who had freely doled out backhanded slaps targeted his ire on those who had turned on Pat over the years. He defended his son's honor.
About Salon@615
Salon@615 presents bestselling authors free to the public through a unique partnership among Nashville Public Library, Parnassus Books, the Nashville Public Library Foundation, and Humanities Tennessee. Together, we nurture and celebrate the literary life of Nashville by presenting author talks and book signings to our community.
Special Seating
If you would like special seating near the LED display, please contact Sandy Cohen at: sandy.cohen@nashville.gov or by calling (615) 862-5750 at least 2 days IN ADVANCE!