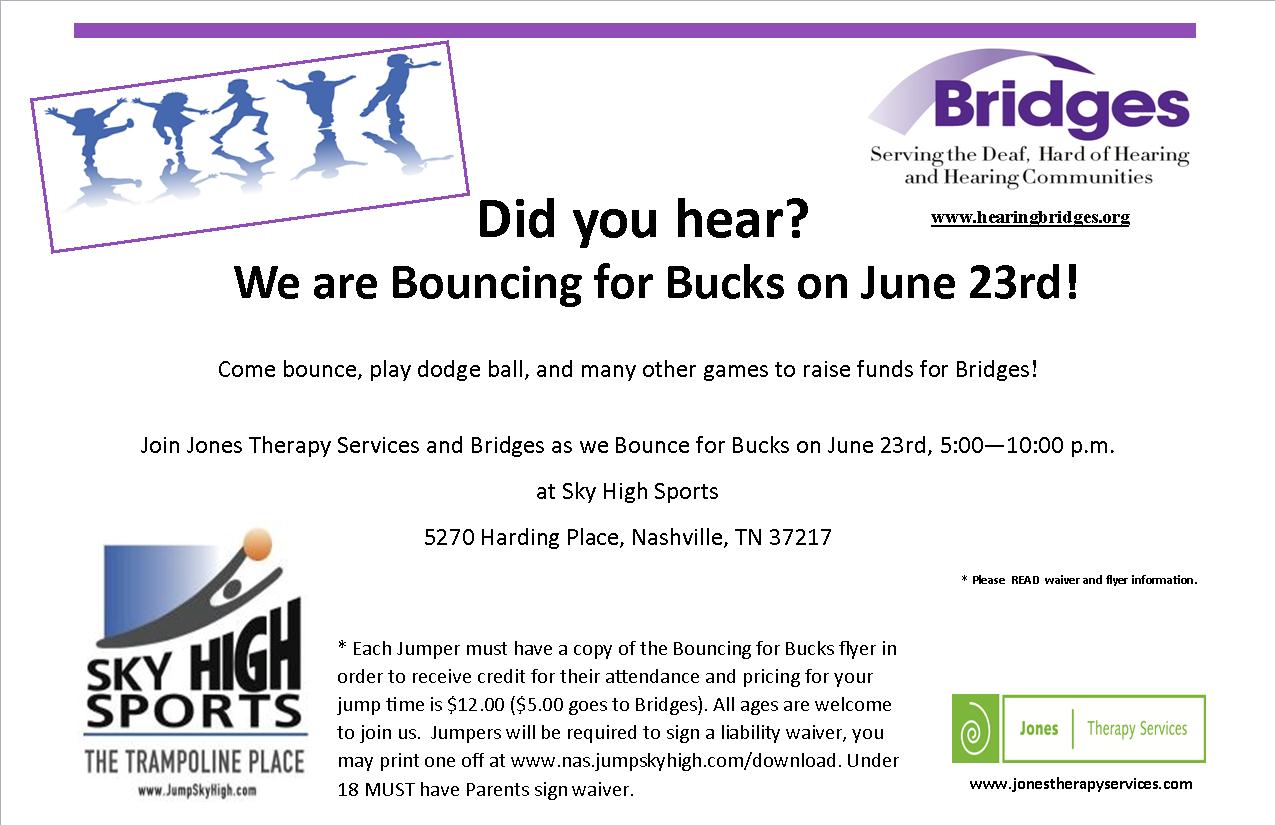 This is an in-person event.
Sky High Nashville Trampoline Center
5270 Harding Place
Nashville, TN 37217
United States
Contact Phone
615-614-8833, ext 825 (Voice)
Jones Therapy Services would like to invite you and your family to come Bounce for Bucks for Bridges on June 23rd! Jones Therapy Services & Bridges will be Bouncing for Bucks this summer to celebrate the new location of Bridges and to support those hard of hearing and the hearing communities. Bridges was formerly known as the League for the Deaf and Hard of Hearing. Ginger Jones, owner and founder of Jones Therapy Services, is excited to celebrate this time with Bridges which has been serving Nashville's deaf and hard of hearing community for 86 years now! Owner of Jones Therapy Services, Ginger Jones, holds a special place for Bridges. Both of her parents have been deaf since infancy and in 2005 they received Cochlear Implants. Ginger's parents, Mr. & Mrs. Bob Geldreich, are Community Volunteers for Bridges. Mr Geldreich use to go to speech and lip reading classes there when he was younger and Ginger grew up fellowshipping with all the wonderful people that were part of that organization. So as you can tell, it is an organization that is very near and dear to her heart! Bounce for Bucks at Sky High Nashville June 23rd, from 5:00 to 10:00 p.m. For questions, please call 615-614-8833, or email: kfitch@jonestherapyservices.com for more information.
Select the state where your organization or point of contact is located.
No