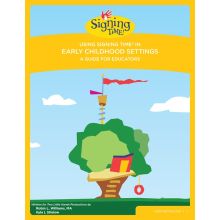 The Guide "Using Signing Time in Early Childhood Settings: A Guide for Educators" provides useful tips and strategies to enhance the development of language, cognitive, and social-emotional skills in young children. The full guide includes the following sections:
Benefits of Signing in Early Childhood Settings
Getting Started
Integrating Signs into Your Curriculum
Teach language and thinking skills
Teach social-emotional skills
Manage conflicts in the classroom
Involve parents in signing at home
Recommended Resources
Sample Lesson Plan: Let's Be Friends
What is Signing Time?
Success Stories
Imprint
Salt Lake City, UT: Two Little Hands Productions, 20--?
<a href="http://waldo.library.nashville.org/record=b2172787*eng"><img src="http://www.syndetics.com/index.aspx?isbn=9781936859009/MC.GIF&amp;client=nash&amp;showCaptionBelow=f" border="0" alt="cover image" style="float: left; margin-right: 5px;"></a>[United States] : Two Little Hands Productions, [20--?]