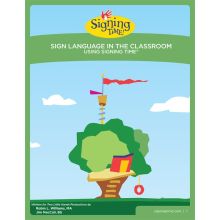 The Guide "Sign Language in the Classroom Using Signing Time" provides useful tips and strategies to teachers in preschool and elementary school classrooms. The guide provides information about how to use Signing Time to improve academic outcomes for all children. The full guide includes the following sections:
Why Use Sign Language in the Classroom
Signing in the Classroom

Reading
Alphabet
Vocabulary
Spelling

Recommended Resources
Overview of the Signing Time Classroom Edition
What is Signing Time?
Success Stories
Imprint
Salt Lake City, UT: Two Little Hands Productions, 20--?
<a href="http://waldo.library.nashville.org/record=b2172798*eng"><img src="http://www.syndetics.com/index.aspx?isbn=9781933543963/MC.GIF&amp;client=nash&amp;showCaptionBelow=f" border="0" alt="cover image" style="float: left; margin-right: 5px;"></a>[United States] : Two Little Hands Productions, [20--?]