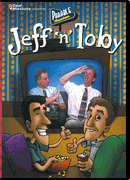 Jeff Jackson and Toby Welch present eight modern-day parables that are based on the book of James.  The skits are designed to help start discussions relevant to the theme of each passage of scripture.  There is an accompanying printed booklet with scripture references and several discussion questions for each skit.  This DVD also includes the book of James from The Bible: ASL Translation.  The skit titles and accompanying scripture they represent are:
   Workout     James 1:1-4
   The Swimming Lesson    James 1:5-8
   Two Voices     James 1:12-18
   Strangers and Friends    James 2:1-9
   The Right Place?    James 2:14-17
   Dangerous Hands    James 3:1-12
   Chip Dips     James 4:1-10
   Growing Patience   James 5:7-8
Note: In the skit, 'Two Voices,' the subject of pornography is dealt with.
Imprint
Council Bluffs, IA: Deaf Missions, 2008
Council Bluffs, IA : Deaf Missions, c2008