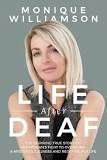 Life After Deaf is the true story of a woman whose life began to unravel after she suddenly went deaf due to a mystery illness. Throughout the book, the reader learns of her courageous battle to learn to live with profound deafness. Imagine trying to raise two children, run a business and be a wife while trying to navigate a new world, one that was completely foreign only days before?
Author Monique Williamson tells the shocking and frightening story of becoming deaf overnight, first in one ear, then the other... even after being told by doctors that lightning never strikes twice. In Monique's case, it did. Discover how she advocated for herself, time and time again, against all odds. Even when people thought she was crazy, she knew deep down that she had a mysterious underlying illness and she vowed to keep seeking answers.
Life after becoming deaf was very challenging and Monique was forced to learn to adapt. Throughout her ordeal, she gained a newfound appreciation and zest for life. After standing so close to death's door, she decided it was time to live her life fully by honouring herself more and appreciating her remarkable life.
This book will inspire you and motivate you to live life to the fullest, no matter what challenges come your way.
About the Author:  Monique Williamson was born and raised on the Northshore of Vancouver, B.C. She has enjoyed a career in sales and marketing most of her life and also started the first successful Flying Wedge Pizza franchise in her early 20's. Most recently she enjoys success as a top producing real estate agent alongside her husband Jesse Williamson. Her life is kept busy caring for her young son Jack and teenaged daughter Rachael. Monique advocates on behalf of those who are too sick to do so, and speaks on the world stage, sharing the motivating and empowering lessons she learned on her journey back to health.
Imprint:
[Place of publication not identified]: Prominence Publishing, 2020