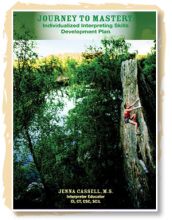 Journey to Mastery is a new, convenient, and cost-effective way for you to enhance your skills while maintaining your hard-earned certification! Great for mentoring, study groups and as a foundational plan of work for classes!
Here's your personalized interpreter training plan! Simply select the pre-written goals, objectives and instructional activities that are right for you. Combine with your favorite Sign Enhancers' DVDs for a tailor-made skills program!
When combined with Sign Enhancers' DVDs, a total of 8 CEUs can be earned.  
Imprint
Eden Prairie, Minn.: Sign Enhancers, c2007
<a href="http://waldo.library.nashville.org/record=b2194734*eng"><img src="http://www.syndetics.com/index.aspx?isbn=9781882872961/MC.GIF&amp;client=nash&amp;showCaptionBelow=f" border="0" alt="cover image" style="float: left; margin-right: 5px;"></a>[Eden Prairie, Minn.] : Sign Enhancers, c2007