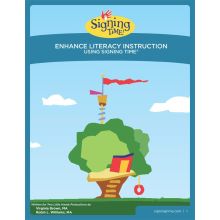 The Guide "Enhancing Literacy Instruction Using Signing Time" provides useful information about how teachers and parents can use Signing Time to help children learn to read. The full guide includes the following sections:
Components of Effective Literacy Instruction
Addressing Learning Styles
Enhancing Literacy with Sign Language
What is Signing Time?
How Can Signing Time Help?
Using Signing Time with Different Age Groups
Tips for Teachers, Parents and Librarians
Sample Lesson Plan: Zoo Animals
Success Stories
Imprint
Salt Lake City, UT: Two Little Hands Productions, 20--?
<a href="http://waldo.library.nashville.org/record=b2172803*eng"><img src="http://www.syndetics.com/index.aspx?isbn=9781933543956/MC.GIF&amp;client=nash&amp;showCaptionBelow=f" border="0" alt="cover image" style="float: left; margin-right: 5px;"></a>[United States] : Two Little Hands Productions, [20--?]