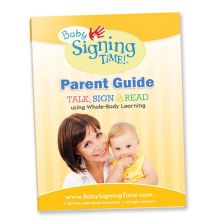 What you will learn in this Guide:
How and when to start signing with your baby
How signing will help your baby communicate
How signing can help your child get ready to read
How to use Creative Talk to enrich your child's understanding of language
How to use Creative Book Sharing to maximize learning and fun during story time
In this guide, you will learn about how able and ready your child is to learn before age three, and what you can do to be your child's first – and best – teacher. We'll introduce you to Whole Body Learning – a creative and playful approach that taps into the power of multi-sensory learning to fuel your child's growing mind. We'll teach you how to use the Baby signing Time program to give your child early learning experiences that will not only be fun, but will also help your child communicate and connect with others.
While there are many approaches to enhancing early development, research suggests that the best way to prepare your baby for life and learning is to spend an abundance of quality time with your child – bonding, communicating, reading books, and playfully exploring the world together. This guide will show you how to use your Baby Signing Time materials as a springboard for shared experiences that you, your baby, and your entire family can enjoy together.
Imprint
Salt Lake City, UT: Two Little Hands Productions, 2011
[Salt Lake City, Utah] : Two Little Hands Productions, 2011