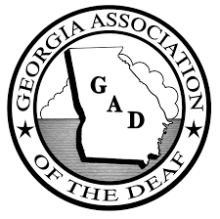 Organization Contact link
Organization Description
The Georgia Association of the Deaf, Inc. (GAD), established in 1910, is the largest self-help consumer organization of persons with a hearing loss in GA.
Mission Statement
To promote awareness of issues surrounding hearing loss.
To advocate for the rights of citizens.
To promote the social, technological, moral, and intellectual advancement of persons with hearing loss in Georgia.
To advocate for the quality of deaf education in Georgia.
To cooperate with other state associations and the National Association of the Deaf in all projects that will advance the well-being of persons with hearing loss.
Who We Are
Here at Georgia Association of the Deaf, Inc., we know that the true disability is not hearing loss itself but society's placing limitations and barriers on Deaf/HH individuals. GAD, as one of the state associations of National Association of the Deaf (NAD), strives to be a collective where Deaf/HH can function as change agents and supporters toward our cause of empowerment, advocacy, betterment, thriving of Deaf communities and individuals in Georgia.
Since our founding in 1910, we have made impacts and are determined to continue doing so. The core of our efforts is to help bring to manifestation our members' fresh ideas and passion to the range of activities we are involved in. Through all of our endeavors we hope to help Deaf Georgians thrive in Georgia.
Let this new look of the website reflect our new outlook, restructuring, and plans for the 2020s decade. In 2020, it was voted that GAD will no longer have chapters- instead the five chapters have the option of becoming its own organization and, if desired, be an affiliate member of GAD.