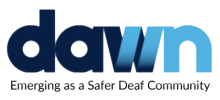 Organization Contact link
Phone
202-559-5366 (Voice)
Organization Description
DAWN is a trauma-informed, culturally responsive, and transformative justice-based agency to provide multi-faced services to the survivors and the community to understand and address power-based violence by providing direct services and education.
As DAWN's mission is to promote healthy relationships and reduce abuse in the Deaf community of the Washington DC area, we emphasize that all forms of violence are intersectional. We work with survivors who have many identities and these varieties of identities decrease their right to their own safety and autonomy.
EMERGENCY:
DAWN Emergency Hotline
hotline@deafdawn.org
(Mon-Fri, 9am-5pm)
The National Deaf Hotline
The Deaf Hotline: 24/7 Hotline
nationaldeafhotline.org
(855) 812-1001
Washington, DC:
DC Victim 24-Hour Hotline:
1-844-443-5732
Maryland:
House of Ruth 24-Hour Hotline:
410-889-RUTH (7884)
Abused Persons Program 24-Hour Crisis Services (Montgomery County):
240-777-4000
PG Family Crisis Center (Brentwood, MD):
301-731-1203
Baltimore area:
Turn Around 24-hour Helpline:
443-279-0379
(or text: 410-498-5956)
Virginia:
Domestic Violence Program (24/7)
Sexual Assault Hotline:
703-683-7273
Domestic Violence Hotline:
703-746-4911
Doorways 24/7 (Arlington, VA):
703-237-0881
Bethany House Helpline (NOVA):
703-658-9500
If you are experiencing a medical/ life-threatening experience, please text/call 911.