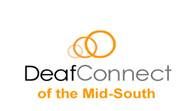 This is an in-person event.
DeafConnect of the Mid-South
144 North Bellevue
Memphis, TN 38104
United States
Contact Name
DeafConnect of the Mid-South
Email Address
dc@deafconnectmidsouth.org
Contact Phone
901.278.9307 (Voice)
Presented by: Paula D. Browning, RID, CSC, NIC Advanced, NAD IV, EIPA 4.7
.4 RID Professional Studies CEUs available
In the history of professional interpreting, it was not until the mid-1970s that the idea of team interpreting took hold. Mental fatigue, carpal tunnel syndrome, and too many hours of work contributed to a revolutionary concept of working in teams for assignments longer than an hour and a half. Then studies were done to validate the rightness of teaming. Work was enhanced, interpreters bodies did not wear out as quickly as they had been, and consumers were provided more accurate access. Now teaming is taken for granted as a normal way of working.
This workshop will focus on the whys and the hows of doing effective teaming. Participants will be exposed to the rationale of working with a team of one or more colleagues on an assignment. Situations will be discussed on when teaming is required, how teams interact, and what makes an effective teaming experience. Scenarios will be explored on professional behaviors among teams and the ramifications of ineffective teaming.
Presenter will present foundational information and guide participants in teaming situations through discussion, scenarios, and role playing.