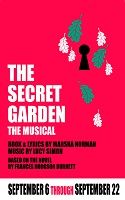 This is an in-person event.
Chattanooga Theatre Centre
400 River Street
Chattanooga, TN 37405
United States
Contact Phone
423-267-8534
Event Type
Accessible Programs,
Children Programs,
Theater
BOOK AND LYRICS BY MARSHA NORMAN
MUSIC BY LUCY SIMON
BASED ON THE NOVEL BY FRANCES HODGSON BURNETT
Direction and Musical Direction by Mike Lees, Choreography by Jessica Laliberte Bowman
A beloved classic of children's literature, The Secret Garden tells an inspirational story of transformation and empowerment.  Mary Lennox, a sickly and contrary little girl, is orphaned to dim prospects in a gloomy English manor.  Her only friend is a bed-ridden boy named Colin whose prospects may be dimmer than hers.  But when Mary finds the key to a hidden garden, the magical powers of transformation fall within her reach.
THURSDAY, SEPTEMBER 12 @ 7 PM with Real-Time Captioning for our deaf and hard-of-hearing patrons