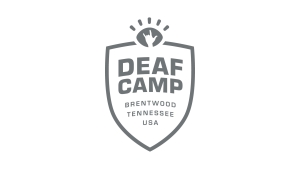 This is an in-person event.
The Deaf Camp at Brentwood Baptist Deaf Church
7777 Concord Road
Brentwod, TN 37027
United States
View on Google Maps
Contact Name
Ethel Bulgherini
Contact Phone
(615) 290-5017 (Video Phone)
Alternate Contact
Susan Marshall
Alternate Phone
(615) 290-5156 (Video Phone)
Event Registration (if available)
The Deaf Camp is a 7-week day camp for Deaf and hard of hearing children, their siblings and children with Deaf parents.  This immersive camp experience provides full language access and empowers students, regardless of hearing ability, to improve their communication skills through learning ASL, problem solving, and team building, all while having fun!
Each day is unique and is carefully structured to create an age-appropriate, enriching educational adventure.  We provide opportunities to practice emotional regulation and life skills through our Imagination Room that offers a different experience each week such as a movie theatre, restaurant, doctors office, and so much more.  By providing opportunities for in-class learning, dancing and friendship, as well as language development and even off-campus field trips, we are able to ensure that each activity builds onto the next so that our campers continue on to higher levels of ability.  
For more information on enrollment, visit our website:  TheDeafCamp.com
Email us at TheDeafamp@brentwoodbaptist.com or call our office at 615-290-5156 with any questions.