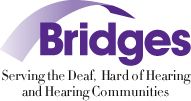 This is an in-person event.
Bridges Multi-Purpose Room of Bridges
935 Edgehill Avenue
Nashville, TN 37203
United States
Contact Name
Amy Lankheit
Email Address
al@bridgesfordeafandhh.org
Contact Phone
(615) 248-8828 (Voice)
Alternate Phone
(615) 290-5147 (Video Phone)
This Saturday workshop will give Deaf and hearing interpreters tools on how to team together, with a special emphasis on Mental Health and Legal settings.
The registration deadline is June 1. To register for this workshop, please select the button below. For more information, please contact Amy Lankheit at al@bridgesfordeafandhh.org or by voice phone at (615) 248-8828.