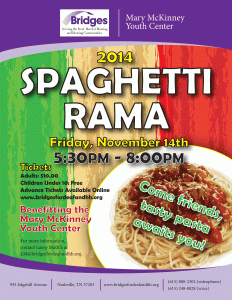 This is an in-person event.
Bridges's Youth Center
935 Edgehill Avenue
Nashville, TN 37203
United States
Contact Name
Lacey Mathis
Email Address
lm@bridgesfordeafandhh.org
Contact Phone
(615)800-2302 (Video Phone)
Event Info / Registration Address
Event Type
Accessible Programs,
Fundraisers,
Silent Gatherings,
Social Activities
Spaghetti-Rama is an annual event and dinner put on by the Bridges Youth Center, and will take place this year on Friday, November 14 from 5:30 p.m. - 8:00 p.m. The entire community is invited to join in this fun filled evening of fine food and superb socializing.
Tickets may be purchased at the door or online at a cost of $10 per person, with children under 10 years old free. All proceeds will go directly to support our Youth Center. If you would like more information or to purchase tickets, you can find it on our website here.