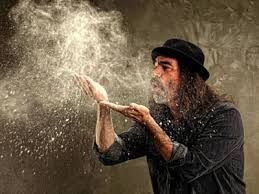 This is an in-person event.
East Tennessee State University
807 University Pkwy
Martha Culp Auditorium
Johnson City, TN 37604
United States
Contact Name
Libby Tipton
Email Address
TRIDconference2014@gmail.com
Contact Phone
(423) 439-8490 (Voice, TTY)
Event Type
Accessible Programs,
Social Activities,
Theater
Renowned Deaf storyteller, Peter Cook, will be performing as part of the annual Tennessee Registry of Interpreters for the Deaf Conference being held at East Tennessee State University.  The performance of Southern Buffet Cookin' Up Stories in American Sign Language will begin at 7:00 pm at the Martha Culp Auditorium on the ETSU campus. His performance will be voice interpreted for the hearing. Admission is free; donations are accepted.