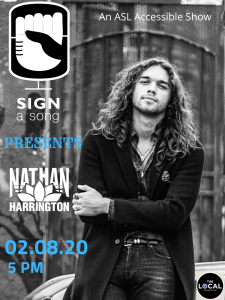 This is an in-person event.
EVENT CANCELLED
D
The Local
110 28th Ave North
Nashville, TN 37203
United States
Email Address
SignASongCo@gmail.com
Event Type
Accessible Programs,
Featured,
Social Activities
Sign A Song Presents Los Angeles music artist NATHAN HARRINGTON at The Local. Join us for this a FREE ASL Accessible event on Saturday February 8, 2020 at 5pm!
Nathan Harrington's next song will be released as an ASL MUSIC VIDEO, so everyone has access! Come see and meet the artist while he's in town, performing for the Deaf and Hard of Hearing community, as his way of saying thank you for the beautiful opportunity to make his music accessible to ALL!
Venue Website: https://www.localnash.com/
Cost: FREE!
ACCESSIBLE
For more information related to Sign A Song and Nathan Harrington, check out the below sites:
https://www.nathanharringtonmusic.com/