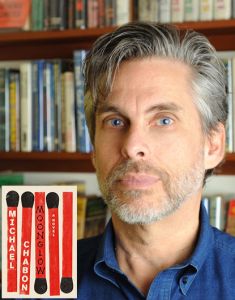 This is an in-person event.
Nashville Public Library - Main Library
615 Church Street
Nashville, TN 37219
United States
Contact Phone
615-862-5750 (Voice, TTY)
Event Type
Accessible Programs,
Featured
Author, Michael Chabon will speak about his new book, Moonglow.
This salon is a free, ticketed event. A limited number of auditorium tickets will be available on-site 30 minutes before show time on the event date (5:45PM). Advance auditorium tickets are limited and guarantee a seat in the auditorium. Advance tickets are available on 11/21/16 at 8:00 AM for $2.50.  Please check the website for further information.
Arrive early for the on-site ticket line. Once auditorium seats have been filled, guests will be accommodated in alternative viewing locations.
To join the signing line at this event, you must purchase a copy of the author's latest book from Parnassus Books. As a Salon patron, you will receive a 10% discount!
This salon will be open captioned.  If you plan to utilize the open captioning, please contact Sandy Cohen, in advance, to reserve a seat.  ASL interpreter available upon advance request.
About Moonglow
Moving from the Jewish slums of prewar South Philadelphia to the invasion of Germany, from a Florida retirement village to the penal utopia of New York's Wallkill Prison, from the heyday of the space program to the twilight of "the American Century," Moonglow collapses an era into a single life and a lifetime into a single week.
About Michael Chabon
Michael Chabon is the bestselling and Pulitzer Prize-winning author of The Mysteries of Pittsburgh, A Model World, Wonder Boys, Werewolves in their Youth, The Amazing Adventures of Kavalier & Clay, Summerland, The Final Solution, The Yiddish Policemen's Union, Maps & Legends, Gentlemen of the Road, Telegraph Avenue, and the picture book The Astonishing Secret of Awesome Man. He lives in Berkeley, California with his wife, the novelist Ayelet Waldman, and their children.