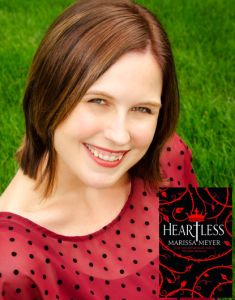 This is an in-person event.
Nashville Public Library - Main Library
615 Church Street
Nashville, TN 37219
United States
Contact Phone
615-862-5750 (Voice, TTY)
Event Type
Accessible Programs,
Featured
Author, Marissa Meyer will speak about her new book, Heartless.
This salon is a free, ticketed event. A limited number of auditorium tickets will be available on-site 30 minutes before show time on the event date (5:45PM). Advance auditorium tickets are limited and guarantee a seat in the auditorium. Advance tickets are available on 11/1/16 at 8:00 AM for $2.50.  Please check the website for further information.
Arrive early for the on-site ticket line. Once auditorium seats have been filled, guests will be accommodated in alternative viewing locations.
To join the signing line at this event, you must purchase a copy of the author's latest book from Parnassus Books. As a Salon patron, you will receive a 10% discount!
This salon will be open captioned.  If you plan to utilize the open captioning, please contact Sandy Cohen, in advance, to reserve a seat.  ASL interpreter available upon advance request.
About Heartless
In her first stand-alone teen novel, the New York Times-bestselling author dazzles us with a prequel to Alice's Adventures in Wonderland.
Marissa Meyer
Marissa Meyer is the USA Today- and #1 New York Times-bestselling author of The Lunar Chronicles: Cinder, Scarlet, Cress, Winter, Fairest: Levana's Story, and now Stars Above: A Lunar Chronicles Collection. Marissa lives in Tacoma, Washington, with her husband.