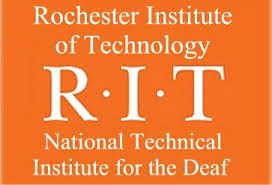 This is an in-person event.
Bridges for the Deaf and Hard of Hearing
935 Edgehill Avenue
Nashville, TN 37203
United States
View on Google Maps
Contact Phone
(585) 286-2616 (Video Phone)
Event Type
Education,
Parent Programs
Rochester Institute of Technology is pleased to offer free workshops to parents of 7th-10th grade deaf and hard of hearing students in the Tennessee area. These workshops will provide helpful step-by-step planning tips students can follow through middle school and high school to successfully prepare them for college.
Representatives from RID will cover these topics:
Identifying the right high school curriculum for college-bound students
Meeting the English literacy requirements for college admissions
Starting the college search process
Financing a college education
Preparing for standardized admissions testing (PSAT, SAT, ACT)
How your child can qualify for TIT/NTID's summer programs at no cost
For more information and to register, visit http://www.rit.edu/ntid/outreach/raising-stars