"Peter & The Wolf" - Captioned Puppet Show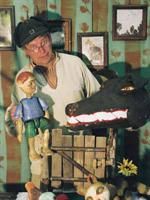 This is an in-person event.
Nashville Public Library
615 Church Street
Nashville, TN 37219
United States
View on Google Maps
Contact Phone
(615) 862-5750 (Voice, TTY)
Event Type
Children Programs,
Theater
A part of the Nashville International Puppet Festival.  This performance will be Open Captioned. Open to the public.  For advance tickets:  click on the website above and then "Get Tickets".
Tickets are required for festival performances and can be picked up for free on the day of show at the downtown public library. Festival and special-event tickets may be reserved in advance online for a convenience fee of $2.50 or by calling (888) 516-5554.
Tickets not acquired in advance will be given away free the day of the performance.
Guests must be seated 10 minutes prior to show. This performance will be in the Auditorium.